We have a great selection of ukuleles for sale.
Painted ukes offer a great value at just $45. These are a very high quality for an entry level instrument and come in 4 fun colors.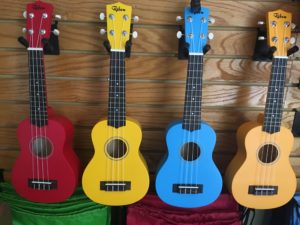 We have a Mahogany ukulele with a fun dolphin bridge. This fun ukulele is a nice upgrade from the entry level ones.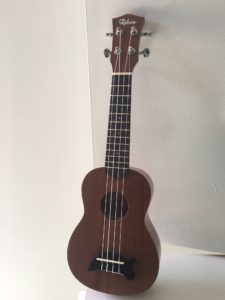 This spruce and sapele ukulele is professional quality for just $99. You'll notice the great sound right away.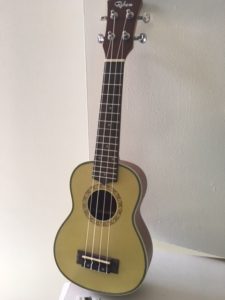 We also have a concert ukulele for folks who want a bigger, bolder ukulele sound. It's just a few inches longer than the other soprano ukuleles but it's played and tuned exactly the same.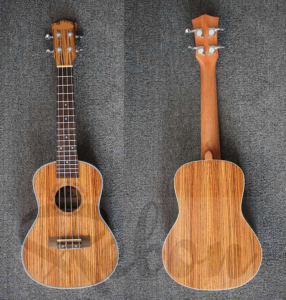 To make your holiday shopping easier, our packages have everything you need to start playing ukulele. We have a few specials packages that make great Christmas gifts. These include everything you need to get started.
Starter Pack – Painted ukulele, bag, book, clip on tuner plus 2 private lessons for just $99. You'll be very impressed with this entry level ukulele!
Mahogany Package – This is the same package as above but with a beautiful mahogany uke. A great value at just $124.
Deluxe Package – Get a professional quality, spruce ukulele with padded gig bag, book, clip-on tuner and 4 private lessons for one low price, $199.
To schedule a time to view these ukuleles or the packages just send me an email.