Ukulele Classes
Ukulele classes for all ages — children, teens, and adults.  We even have classes during the day just for home schoolers.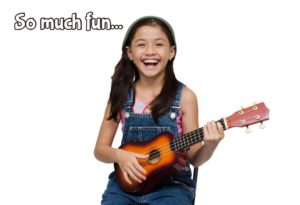 Group Classes
The intro class covers all the basic you need to get started. Things like tuning your ukulele, how to read tab, summing techniques, etc.
Group classes cost just $70 for the weekly, 55 minute sessions, so it's a really great value.  The classes are small so you'll get plenty of personalized instruction.  Here's our current schedule:
Youth, Mondays 4:30-5:20
Adults, Tuesdays 2:00-3:00
Youth, Tuesdays 4:00-4:50
Adults, Wednesday 7:00-8:00
Do you have a time that would work better for your schedule? Just let us know, we are adding classes all the time!
Enroll Now
We are also scheduling private lessons for ukulele. To schedule your individual lesson please email rick at rmsteelbands.com.